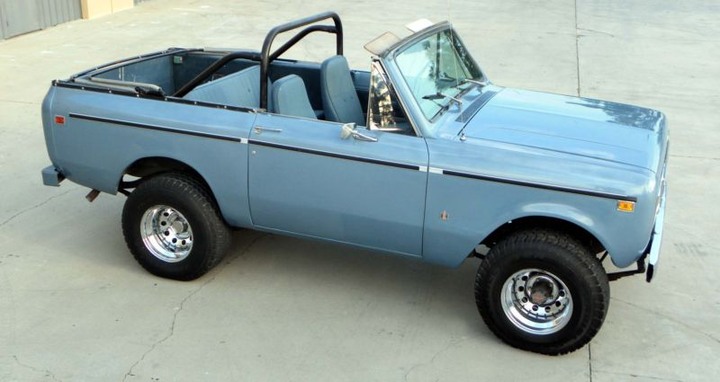 California Original, 1977 Scout II Here on eBay
This is a gorgeous example of a 1977 International Scout II.
She is a 100% Rust free California original example with only 64,491 original miles.
The special Scout is truly a rare find.
There are not a lot of these available and to find one that is in such wonderful condition is a special treat.
The engine starts at the turn of the key and sounds very healthy. The acceleration is superb and the entire drive-train is solid and tight. The Scout runs extremely well and has no leaks, (does not) smoke, overheat or have any strange noises. The transmission shifts like clockwork through all the gears. The 4×4 operates like it should and the overall look and feel of this SUV is a pleasurable experience itself.
All mechanical, electrical and climate control systems work properly. The Scout still retains it's matching number engine and transmission and has factory working air conditioning.
The body, chassis and frame are entirely rust free and still bears it's original "blue and yellow" license plate which verifies it's heritage.
The gorgeous baby blue paint finish shines lustrously and looks amazing. There are minimal nicks, chips, and dings. There are no dents and the overall appearance is spectacular.
The interior gorgeous. There is virtually no wear/tear on the seats, carpet, door-panels or top.
-Nice wheels and tires
-Beautiful shiny original chrome
-All rubber/trim and weather stripping are in un-weathered and in great shape
-Brakes, steering and suspension are in tip top condition
The seats are crisp and clean. It is remarkable how little wear there is (like new). The dash is like new with not one single crack or imperfection. All of the interior faux wood looks great!
The soft top/frame are in great shape and it is very easy to put the top down. The original soft top has no tears with clear plastic windows all the way around.
Although the stock radio is still in tact there is a more modern sound system in the center console with specially mounted Sony speakers under the drivers-Passenger seats.
Located in Los Angeles, California, United States
Auction ends May 28, 201301:16:45 PDT Here on eBay